How does it work?
Our itineraries include a 'Before You Go' package and four surprise stops. Each stop is packed with a new destination, specific recommendations, maps, travel tips and fun facts.
Select your trip style.

Select a day trip based on your location, interests, and travel preferences OR take our quiz to help narrow down options.

Get your package.

Choose between receiving a beautifully crafted package in the mail OR a PDF (digital version) of the trip which gets sent right to your inbox.

Pack your car.

Each package includes a 'Before You Go' booklet that will give you just enough information without spoiling the surprise destinations on your road trip.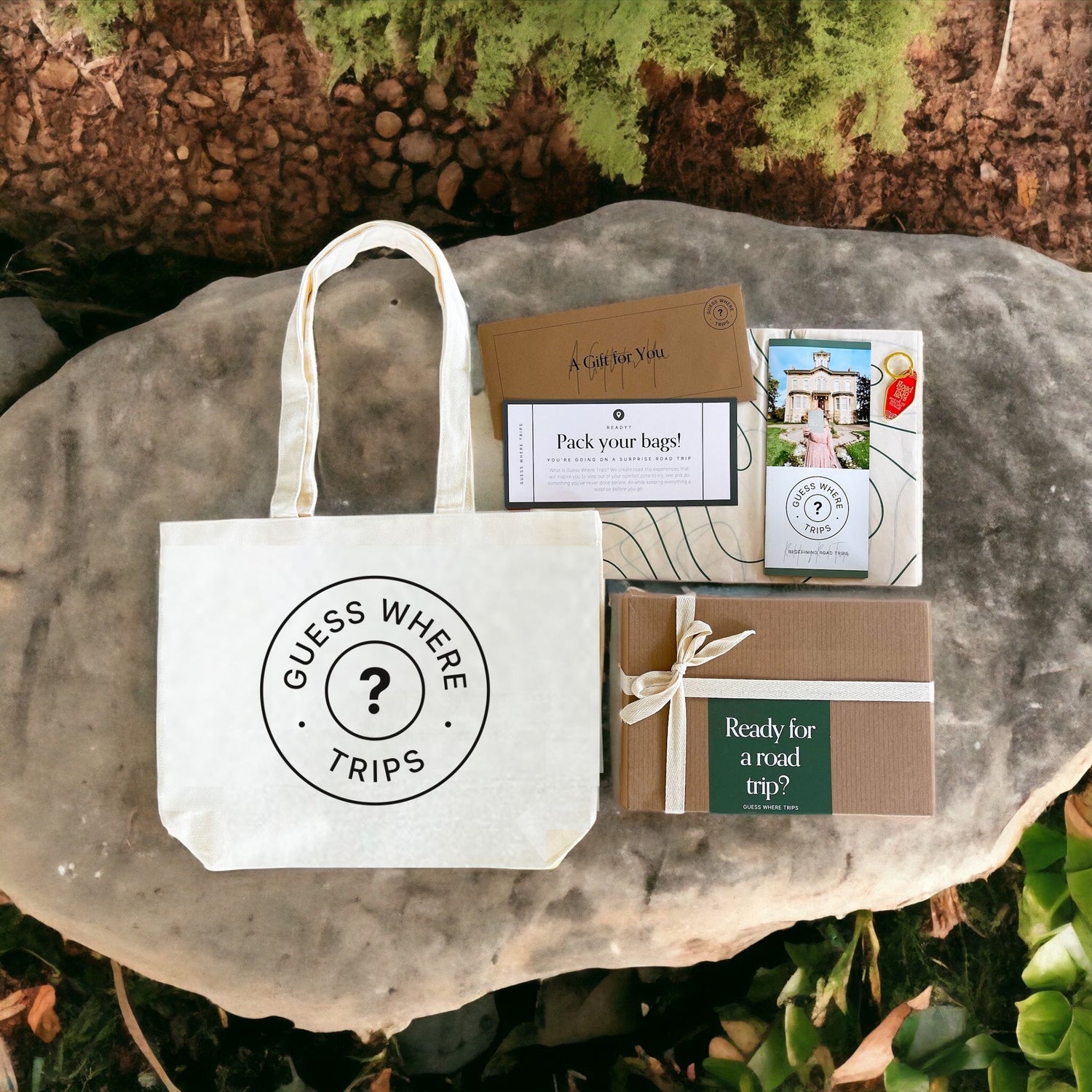 2023 Gift Guide
Experience gifts are the perfect go-to for those who have it all, for those who could use a pick-me-up, and for those who want to explore more of the world around them. This year, consider gifting them an unforgettable adventure filled with surprises and excitement.
Choose Your Starting Location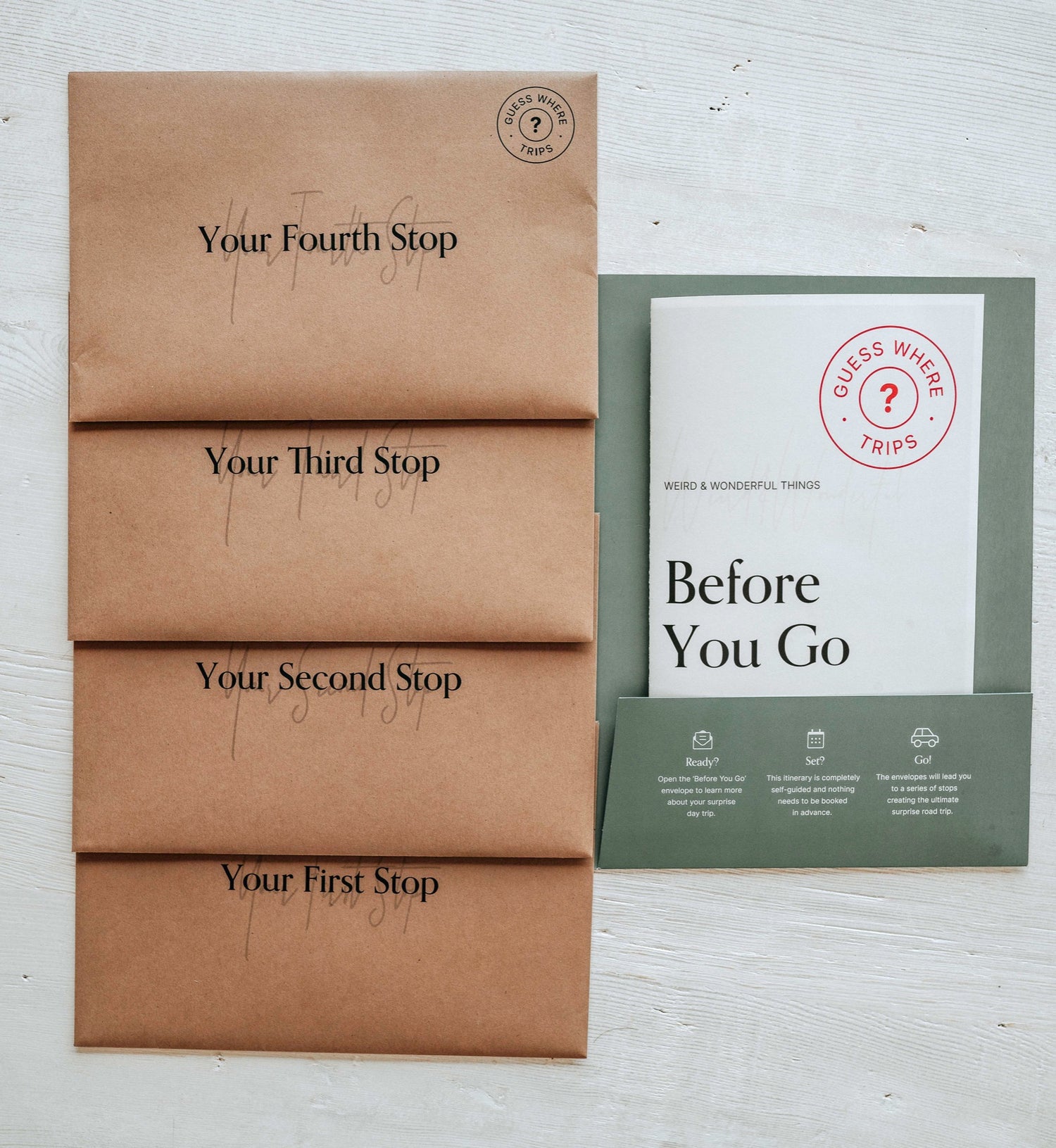 Our carefully crafted itineraries feature four surprise stops, each one packed with unique suggestions, maps, insider tips, and fascinating facts that make exploring your local area a breeze.
Your trip package includes a 'Before You Go' guide and a series of envelopes that will lead you to several surprise destinations on your road trip.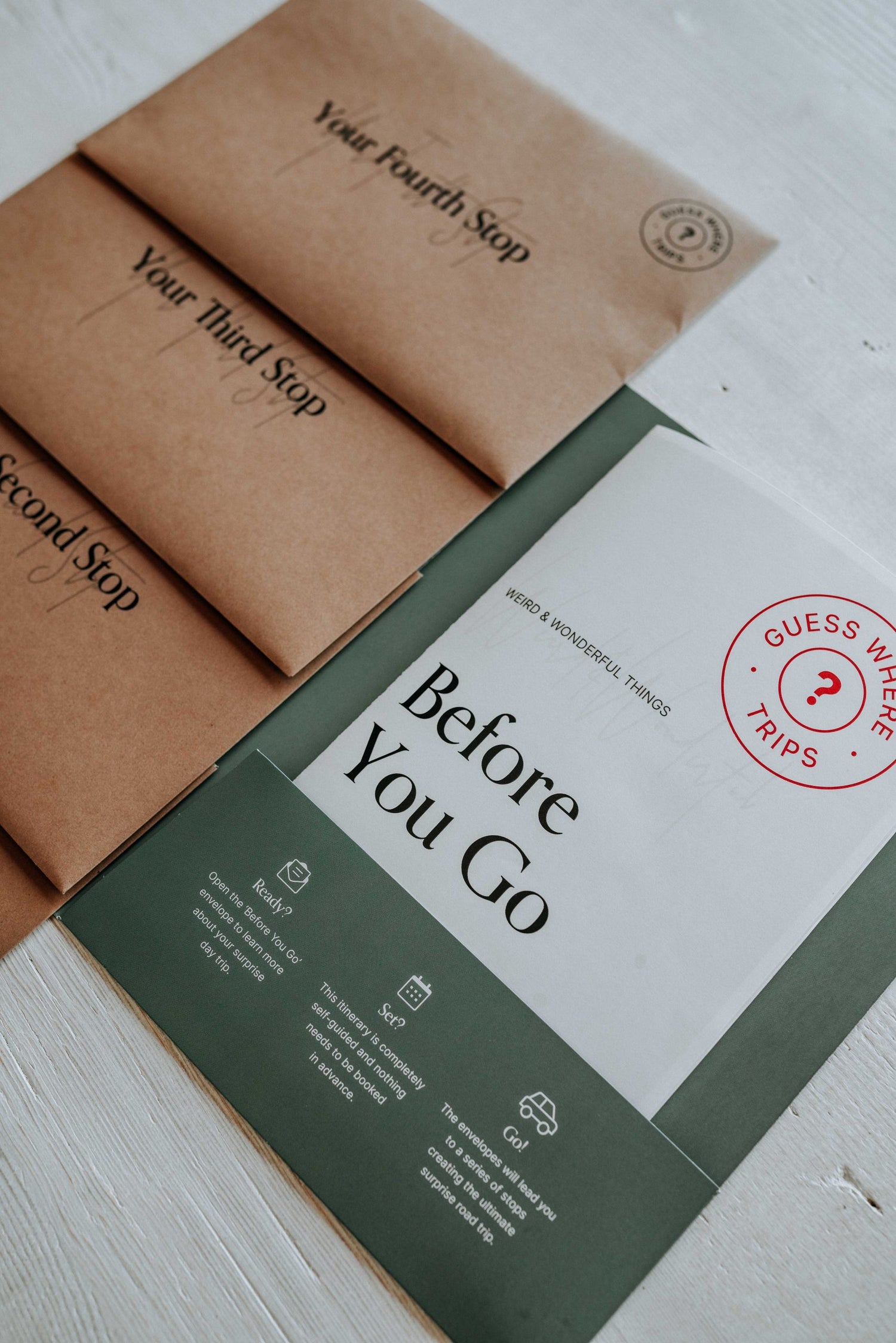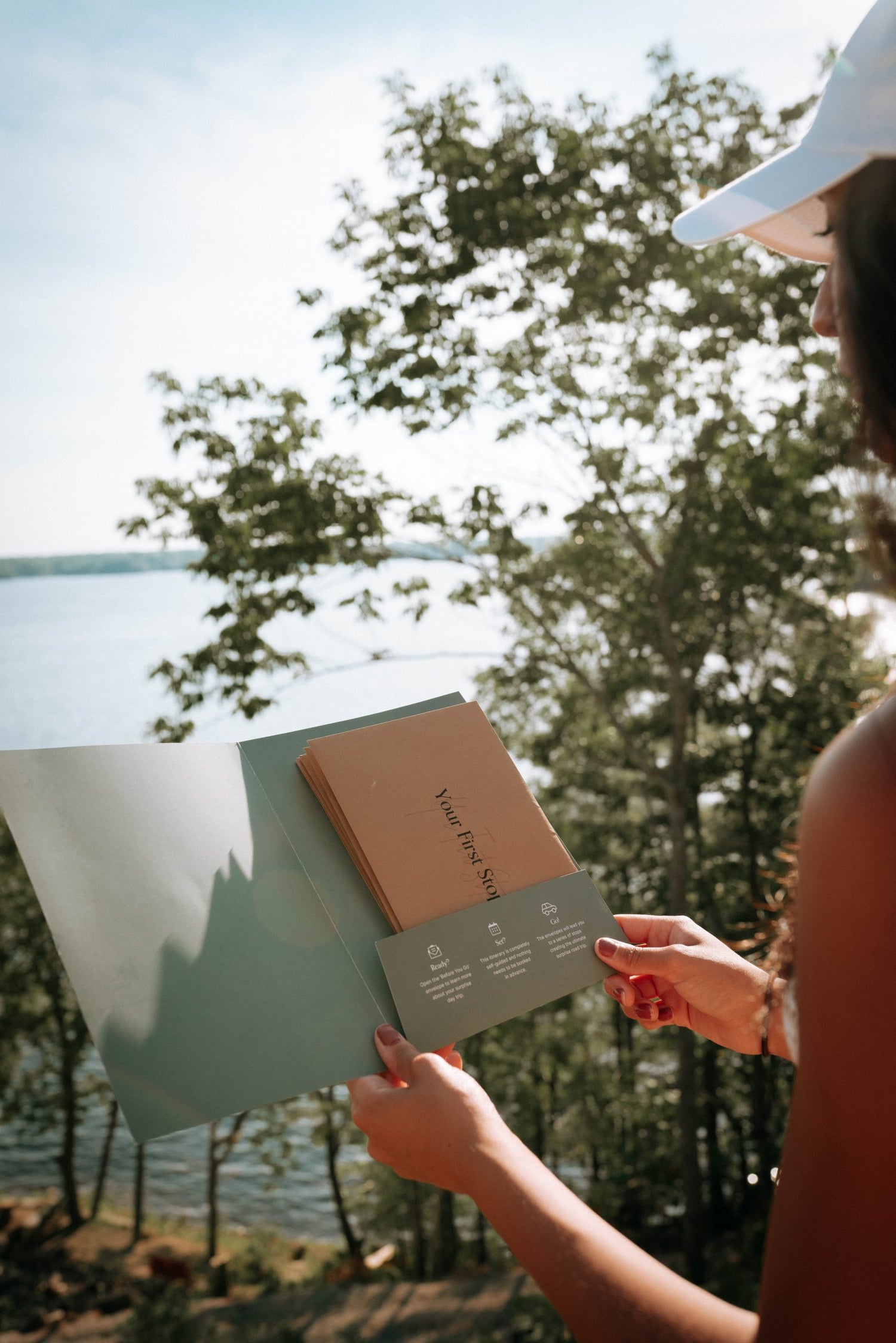 Take our road trip quiz!
Enter your departing address, select your interests, and preferred driving duration to find the best trip for you.
Take Our Quiz
What People are Saying...
Each stop was so well thought out, perfectly timed, and so much fun. Like the rest of the world, my wife and I have been stuck inside during the pandemic, but Guess Where Trips introduced us to some hidden gems, and reminded us of how much fun it is to get out and discover new spots (and took away the stress of planning!). It was the perfect getaway. I cannot recommend it highly enough.
OMG! I did the Funky Florals trip yesterday with my mom and some friend and wow! The spots were absolutely amazing. The first stop was my favourite. If that was the only one it still would have been worth it! The rapids are insane! Doing the surprise trip next weekend and cannot wait! Thank you! Can't wait to see what's coming for the winter.
I cannot thank you enough for this! We went on our adventures trip and it exceeded our expectations! My kids were very excited to open the envelopes after each stop to see where we were going next. I took my mom as well, and she enjoyed every minute of it. The third stop was stunning! We stayed at the patio of the vineyard and enjoyed the beautiful view while we ate and sipped on some wine. Oh and the donkey sanctuary...cutest thing ever. Today has been one of the most memorable days yet!
My mom turns 60 this week and she always says she doesn't 'NEED' anything. So, I decided to get her a Guess Where Trip so that she could spend an entire day with her family doing something fun. She LOVED it!!! She said it was such a great idea and wants to go on another one with me ASAP! Thanks so much for an amazing day!
Ah! I just have to let you guys know, you're amazing at putting together fantastic road trips! We started out on the Hops & History tour, and ended up in the CUTEST beach town (you guys weren't lying).
Went on our third Guess Where Trips today, and like the others, it exceeded our expectations! Never know where we are headed until the day we go on our trip. Very well planned out road trips. They have taken me to many places I've never been to.
Not to be dramatic, but I went on one of your trips last weekend and it was the best day of my life.
My girlfriend and I went on your Weird and Wonderful trip on Saturday and we just wanted to say that it was such an amazing experience! From the moment we opened our first envelope it was clear that your team is dedicated to creating a very memorable experience for each of the stops! My girlfriend and I want to say thank you for helping us create some amazing memories and can't wait to do more trips in the future!
Absolutely LOVED our surprise adventure from @guesswheretrips! We visited so many beautiful and interesting places that we never would have stopped at otherwise. Also, the roadside food stops were 10/10. I highly recommend checking them out if you're looking for an amazing action-packed day!
We're here to help
What is Guess Where Trips?

At Guess Where Trips®, we specialize in self-guided one-day surprise road trips. Leave the stress of planning to us! We design each road trips around a general theme, so you will have an idea of what you might get up to during the day, but you won't know where we're sending you! We love finding new small businesses, hidden gems, cute cafes, and picturesque towns. 

Need us to take even more stress off of the planning and help you choose a trip? 

Fill out our quiz here to help you decide on a trip!
What will I receive in the mail?

Your road trip includes a well-curated itinerary for the day with a focus on small businesses, cute shops, hidden gems, and unique locations. Our trips come in five envelopes, which are tied with a bow and placed into a folder to keep everything neat and tidy.

Note: If you choose the PDF option, there are no surprise stop envelopes. All of the stops will be sent digitally to your email in one file, so scrolling through the entire document will reveal the surprise stops.

What's not included: Food, drinks, gas, and admission (if there is a fee!) are not included in the price of our trips.
How long will my order take to ship? How much does shipping cost?

For orders over $50, we will ship your package for free.

Shipping within Canada

We use Canada Post for all shipping within Canada. Our (free) expedited option takes 5-7 business days.

If you need your order quicker, there is an Xpresspost option at checkout for $12.

Shipping to the USA

We use UPS for shipping to the United States. The free shipping option takes 4-8 business days, while the $15 paid option takes 1-3 business days.
Do you have any overnight trips?

Although we cannot book hotels on your behalf, we do recommend extending the adventure by turning your one day road day trip into an overnight getaway (especially if you choose one more than 4 hours round-trip from home!) Keep an eye out for your confirmation email! In it, we will send you a list of our favourite hotels in the end destination if you would like to extend your trip.
How long are your trips?

Each trip takes roughly 6-8 hours to complete - this includes time spent at the recommendation and driving. Under the FAQ section of each trip page, you will find more detailed information about the round-trip driving distance from nearby cities. This will give you a better idea of how much time you can expect to spend in the car, based on your departure location.
How do I redeem my gift card?

After choosing a trip, please enter your 16-character code on the checkout page in the field under 'Have a Gift Card?.' This will then take your order to a zero balance.
Are your trips kid-friendly and dog-friendly?

Kid-friendly: Yes! Almost all of our trips are kid-friendly. Click here for our kid-friendly trips. (This will show you all of our kid-friendly trips both in Canada and the US). We recommend choosing trips shorter in driving distance to ensure it's a pleasant drive for everyone.

Dog-friendly: Many of our trips are dog-friendly or some what dog-friendly! Click here for our dog-friendly trips (This will show you all of our dog-friendly trips both in Canada and the US). The trip page itself will also let you know if it is okay to bring your pup or not. Note: most restaurants and stores do not allow dogs inside, so most of your day will be spent outdoors if you bring a furry friend along.
Are your trips wheelchair accessible or good for people with low mobility?

Yes! Many of our trips are wheelchair accessible and good for low mobility. On the trip page, we list if the trip is wheelchair accessible. Click here for a list of all our most wheelchair accessible trips. (This will show you all of our wheelchair accessible trips both in Canada and the US).
Does the cost of the package include the entrance to any activities?

Most of the activities and attractions we recommend are free or have a minimal entrance cost (under $10/per person). We note the approximate costs per person in each trip package. If there is a higher entrance fee, we will recommend a free nearby alternative.
What's Included:

A 'Before You Go' guide with a packing list, approximate driving distances and more tips to plan for your day ahead.

A series of four stops that will make up your day's itinerary with recommended roadside stops along the way.

Restaurant, attractions and activity recommendations based on your trip style.

Mailed version: includes 5 printed booklets (a Before You Go and 4 surprise stops) and shipping.

What's Not Included:

Transportation and gas.

Entrances and parking fees for some of recommended attractions (the majority of stops are free).

Food, beverages and gratuities.

PDF version: does not include printed booklets, itinerary is emailed